Attacks against QSD continue… 13 teachers kidnapped by the militia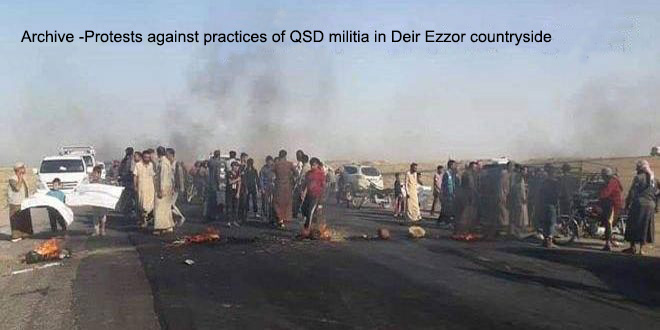 Deir Ezzor, Hasaka, SANA- A militant of US occupation -backed QSD militia was shot to death in al-Bseirah city in Deir Ezzor eastern countryside.
Local sources told SANA that attacks on the gatherings of QSD militants in areas of Syrian al-Jazeera have continued as a militant was killed in al-Bseirah city.
A number of teachers kidnapped by QSD
Meanwhile, the militia kidnapped a number of teachers from al-Shaddadi city and took them to coercive recruitment camps.
Local sources said that militants of QSD militia stormed into neighborhoods in al-Shaddadi city in Hasaka southern countryside, kidnapping 13 teachers and taking them to recruitment camps to oblige them to fight along their ranks.
Nisreen Othman / Mazen Eyon
Attacks against QSD continue… 13 teachers kidnapped by the militia
Attacks against QSD continue… 13 teachers kidnapped by the militia
Attacks against QSD continue… 13 teachers kidnapped by the militia
Attacks against QSD continue… 13 teachers kidnapped by the militia
All Rights Reserved:
Apartments News
Auto News
Car News
Credit News
Insurance News
Loan News
Top News
Pharma News
Real Estate News
Rental News
Travel News
USA News