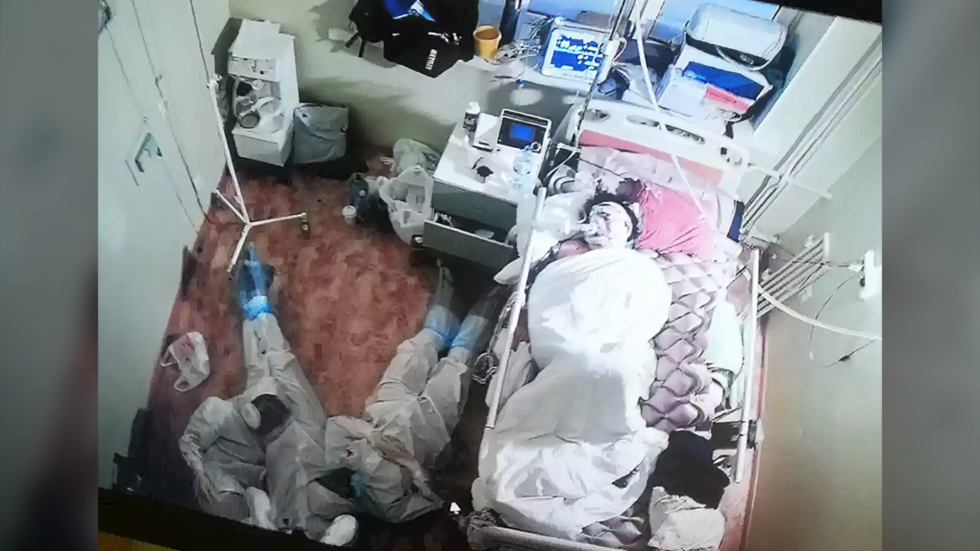 A CCTV image showing a trio of medical students in protective suits resting on the floor of a hospital's ICU unit has made waves on Russian social media. To find out how it happened, RT got the full story from the original source.
The moment was captured on a CCTV monitor by the chief nurse of the Covid-19 ward in a hospital in Sosnovy Bor, a city of less than 68,000 residents located on the shore of the Gulf of Finland some 60km west of St. Petersburg.
"I came to work and this is what I saw on CCTV," she commented, posting a photo, which has since gone viral. "My utmost gratitude to Rasul, Katya and Lyosha for taking an extra shift in an emergency and helping us out in an hour of need, you cool guys!"
The two men and the woman, who can be seen lying on the floor in the picture, are medical students from the city of Perm. They are part of a group of 13 resident medics undergoing their post grad training in Sosnovy Bor. The three were supposed to take the morning shift, but multiple crises erupted overnight, prompting an all hands on deck call from the staff.
The three students came in in the middle of the night and went to monitor a patient in the ICU unit. She had a bad case of Covid-19 and required constant on-site observation to catch tell-tale signs in case her condition suddenly took a turn for the worse.
"Lyosha, Katya and I went to the 'red zone' to relieve the staff, who were with the patient, so they could go and take other duties in the ward," Rasul Nazarov told RT.
"We were exhausted by the morning. The hazard suit doesn't breath at all and it's really difficult to remain in one without a break. So we took to the floor and kept checking the readings right from there."
When the time came, the students took their regular shift.
Also on rt.com So long, 2020: Another year passes & despite Western predictions, warnings & wishful thinking, Russia fails to collapse… again

"Well, here is the case when you see somebody 'sleeping' on the job and can only feel respect for them. Hold fast!" one response to the viral photo said.
"God bless them with health, happiness and long life," another commented.
Sosnovy Bor has almost 4,000 Covid-19 cases recorded since the start of the outbreak in Russia. Local health officials reported 34 fatalities linked to the disease.
Like this story? Share it with a friend!